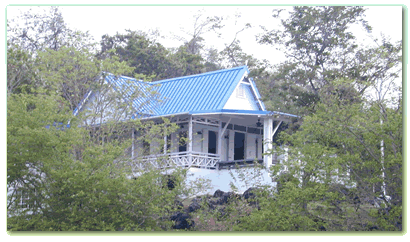 Recently fully renovated, this breezy Caribbean home sits on an elevated point with a bay on either side. It sleeps 14 people in four air conditioned bedrooms each of which opens out onto a timber gallery overlooking a bay. There are three bathrooms, two recreation rooms one of which has a bar. The kitchen/dining area opens on three sides, the front onto a large covered front gallery with a view over the sea that stretches down to Venezuela.
There is a front jetty at the tip of the point and a side jetty in one of the bays where boats can tie up and which has a small paddling pool area. Swimming in the bay is safe. Gasparee Island has no roads and much of it is still virgin rainforest criss crossed by well maintained tracks where many species of birds and wildlife abound.
It is about a five minute boat ride across from Chaguaramas national park on mainland Trinidad where you will find restaurants, hotels, a vibrant yachting community and guided ecotours.
A small cottage at the back of the house accommodates 2 caretakers who maintain the house and land and are available for baby sitting. The house is fully equipped with large fridge, freezer, microwave, oven, dishwasher etc. and all utensils, as well as bed linen, stereo system etc. Television provided on request for longer staying guests.